Outline
Grand anchor are applied in various field such as cutting earth, stable surface of slope failures, landslide prevention and overturning of structures buoyancy prevention.
Among them, The "KTB permanent Anchor Construction Method" has many performance as a durable anchor construction method with stable mechanical properties.
Main Applications
Slope protection surface stabilizer( on-site strike frame)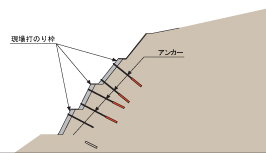 Slope protection surface stabilizer( Pressure receiving Plate)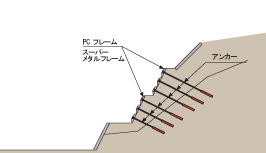 Prevention of underground structure rising to the surface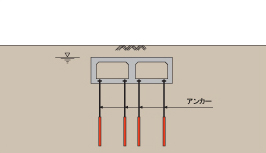 Reinforce existing retaining wall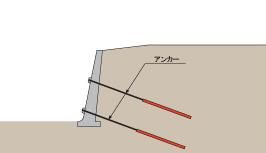 Suspension Bridge's Anchor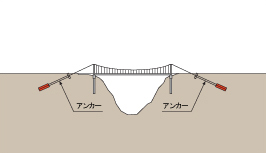 Preventation of Overturning Steel Tower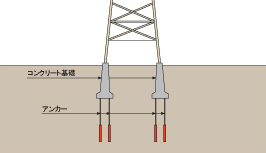 Types of KTB Permanent Anchor Construction Method
KTB・Tension Type SC Anchor Construction Method
The strand has a gap with a spacer, it strengthens adhesion strength of grout.
SC strand is used for tendon to achieve corrosion prevention and rust prevention throughout
It has the simple structure ,so that it is possible to reduce the diameter of drilling
Easy insertion task and easy to manage the tension easy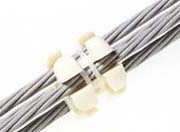 KTB・Load Distributed Permanent Anchor Construction Method
Distributed transmission of design anchor force securely to the ground via multiple load object carrying capacity
SC strands are used for tendon, to achieve corrosion prevention and rust prevention throughout.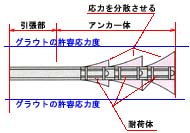 KTB Stress constrained Cms Anchor Method
Transmission of averaged small stress by unprecedented constrains with corrugated ribs.
Completely anticorrosion using SC strand in Tendon , realizing quadruple corrosion protection throughout.
When the fixing ground is good , it is possible to shorten the length of the anchor body
Simple structure realizes thinning of drilling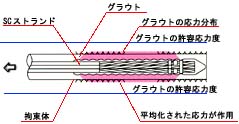 Anchor Construction Procedure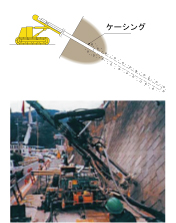 Drilling of the anchor is based on the planned drilling diameter and prescribed drilling length at angle.
Also at the end of drilling , clean the inside of the hole with distilled water so as not to disturb the drilling hole.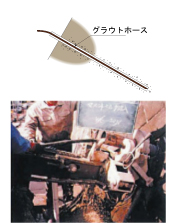 As a rule primary injection is done for the purpose of replacing drilling water and filling grout before inserting tendon.
Complete replacement of drilling water with grout is most important.
【Step 3】
Tendon Insertion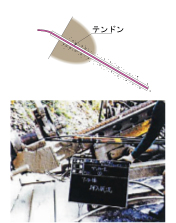 Insert tendon as soon as possible after primary injection as per the construction plan.
【Step 4】
Pressurization Injection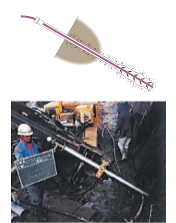 After inserting the tendon , pressurized injection is in essence. After drawing the drill pipe make replenishment injection.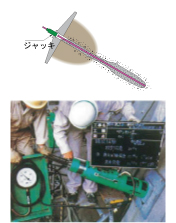 After the grout reaches the predetermined strength , the tension is confirmed by the quality assurance test , and it is fixed with the tension at fixing time indicated in the construction plan
【Step 6】
Fixing and anchor's upper part processing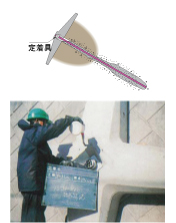 Tension and settled anchor 's upper parts are processed as per the design document.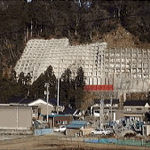 | | |
| --- | --- |
| Project | Countermeasure for steep slope ground protection |
| Customer | Nyuzen Civil Engineering Office |
| Contractor | Otaka construction Co.,Ltd |
| Period | 1999 March to 2000 March |
| Place | Kurobe City Otozawa |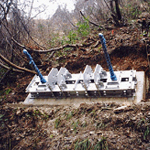 | | |
| --- | --- |
| Project | Bridge Abutment Construction |
| Customer | Nyuzen Civil Engineering Office |
| Contractor | Otaka Corporation |
| Period | 2003 October to 2003 December |
| Place | Kurobe City Otozawa |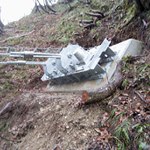 | | |
| --- | --- |
| Project | Suspension Bridge Installation Work |
| Customer | Ministry of Land, Infrastructure and Transport, Kurobe River office |
| Contractor | Otaka Corporation |
| Period | 2004 October to 2005 March |
| Place | Kurobe City Otozawa |