Outline
Rock adhesion・DK bond method is a construction method to prevent collapse by literally
Integrating the cracks of the rock mass with the adhesive and integrating them and moving the mechanical center of gravity backwards.
In the construction site in the vicinity of the epicenter of the Grate Hanshin-Awaji Earthquake that occurred in 1995, there was no change in any of them, and the effect of disaster prevention was evaluated by each administration agency.
Features

Ideal for conservation of natural landscape and has less environmental impact
Especially effective against high rocks and possible to construct in steep slope , overhang palace
Economical for small scale construction
Can be applied to terrain where large machine cannot enter easily so the human power is the main source
Simultaneous use with other construction method as well

Achivements
This method has been used in about 2500 places all around Japan



Construction Procedure of DK Bond Method
【Process 1】
Temporary Construction・Scaffold

Work Gimp
Scaffolding
Transport Temporary Construction
【Process 2】
Cleaning Work

The cleaning work is the most important work in the adhesion process
【Process 3】
Cleaning Work(Wire Brush)

In order to adhere first, the weathered surface must be removed by crane work
【Process 4】
Joining Process

In the widely cracked places, stones are piled up for knead and joint mortar are added too it

The pressure during injection must be natural pressure and have to avoid pressure fitting.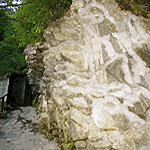 Name of Construction: Maintenance of Natural Park etc. Keyakidaira Maintenance work
Costumer: Toyama Prefecture Uozu Noutihayasi office Uozu Farmland Forestry Office in Toyama Prefecture
Original Contractor: Otaka Construction Co.,Ltd
Construction Period:2003 August to 2003 October
Construction Site( Field):Toyama Prefecture Shimoniikawa Gun Unazuki Machi Kurobe Okuyama Keyakidaira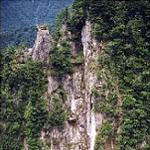 Name of Construction: Kurobe Exclusive Railway Lower Part No.30T outer Part Surface
rock stone source Counter measure Construction
Costumer: Kansai Electric Power Company
Original Contractor: Mayeda Construction Industry
Construction Period:2002 September to 2003 July
Construction Site( Field):Toyama Prefecture Shimoniikawa Gun Unazuki Machi
Okuyama Kaneturi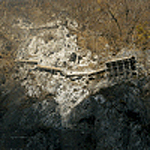 Name of construction: Landslide Prevention Orbit Measures against Rock fall ( part 2)
Construction
Customer: Ministry of Land Infrastructure and Transport Tateyama Landslide
Prevention Construction Office
Original Contractor: Mizuguti Construction Industry
Construction Period:2002 August to 2002 October
Construction Site( Field):Toyama Prefecture Nakhaniikawa Gun Tateyama Machi
Asikuraji