OHSAS 18001
Acquired OHSAS 18001 in July 2011 and operate it. In acquiring OHSAS 18001, we have established an occupational safety and health management system that clarifies our safety activities so far.
In other to fulfill the philosophy of safety , we are putting effort by turning PDCA cycle for the formulation of targets, risk assessment and continuous improvement.
Safety Philosophy and Policy
Safety philosophy
The most important philosophy of Otaka is [ Top priority to Safety]. Working with the spirit of respect for human life in any situation to protect people's lives ,health and happiness accidents ・disaster should not be occurred.
Safety Policy
『We will pursue and manage the cause of potential hazard in the workplace and form a comfortable working environment.』
Guideline
Accurately grasp the safety and health risk associated with business activities , carry out prevention of occupational accidents and occupational hygiene environmental conservation activities.
To set and achieve occupational safety and health objectives we will effectively operate the occupational safety and health management system and continuously improve safety and health activities.
We comply with occupational safety and health related laws and regulations and other requirements agreed by us.
Enhance safety and health education and improve safety and health awareness.
Safety policy and action guidelines shall be communicated to all employees and cooperating companies and also disclose to stakeholders.
Overall System and Diagram of Occupational Safety and Health Management System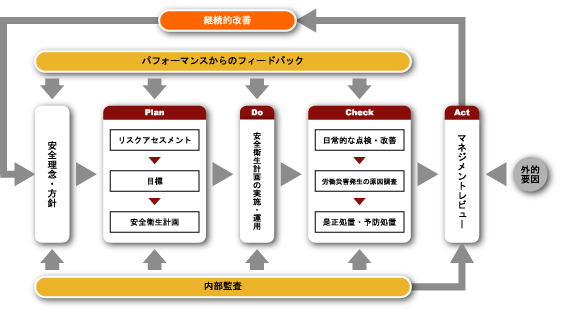 OHSAS18001Certification